Happy Birthday to us!
That being said, right out of the gate we've got to admit that Year Three posed some significant challenges for Cardsphere. WotC's product direction with Project Booster Fun and Mystery Boosters caused some real issues with our automated processes for retrieving card and pricing data from multiple external sources, who all indexed the variants in their own way. We had to shelve a lot of user-facing feature development to work on backend tools to manage the incoming telemetry, and this was very time consuming. At the same time, Michael built the tools needed to correct mistakes that had crept into the database over time, also a substantial task. The good news is, this back end development is mostly completed, and we're excited to begin offering new user facing features very soon.

Another challenge came from a now-defunct competitor with millions of dollars of funded marketing pushing out a lot of fear, uncertainty, and doubt about the rate and risks of counterfeits in the Magic community. Don't get me wrong – this is a serious issue and we pursue its defeat passionately. Depending on the circumstances we have worked both with WotC and law enforcement when counterfeiters have tried to exploit the Cardsphere community, but the very least we do is protect our users by holding funds in escrow and by having Cardsphere owners work all customer service, including counterfeit investigations. The real challenge which resulted from the defunct competitor's marketing was an enormous amount of false positives, and the unpleasant experiences and extra time burden that result from their investigation. This all said, we remain confident that our processes afford the maximum protection to our users, and we continue to remove bad actors from the system quickly.
And of course, there's the big one. The corona virus.
Cardsphere has survived the virus remarkably well. Sure, our unique senders went way down to our lowest points since our earliest days operating, mail timelines have been extended, and some countries are still not currently able to fulfill trade with one another, but all things considered, our model has been very successful: We have no warehouses, require almost no staff to operate, and the same low operations costs that allow us to offer our unbelievable margins insulate us from economic downturn. No one's pretending there was no nail biting and clutching of pearls, but with paper Ikoria getting into users' hands, things definitely appear to be normalizing.
We are of course so thankful to our hardcore users who continued to ship through the worst periods. You are our engine, and we appreciate your work very much.
And to everyone using Cardsphere: we remain more committed than ever. We have seen that we can weather adversity well, and are gearing up for the next round of user improvements.
The Data
As we have before, we'll present the data in lists, tables, and charts below, but will also provide links to download more complete data in CSV format.
Social Media
We have kept using social media organically -- we do not pay for advertising, likes, or follows. We do not use giveaways to inflate our social media numbers.
As we continue to see competitors use social media spending to little success (or outright failure), we believe we're correct in not pursuing social numbers too heavily. Instead, we continue to invest in sponsorships and content creation to get the word out.
Number of Reddit subscribers: 1,352 (+156)
Number of Facebook followers: 431 (+25)
Number of Twitter followers: 1,546 (+503)
Number of Discord members: 882 (+187; inactive users purged quarterly)
Number of articles published: 347 (+114)
Sponsorships
While being one of the smaller marketplaces running, Cardsphere has remained dedicated to getting money back out into the community of Magic creators, and almost certainly spend a greater percentage of our profits this way than any other marketplace. In the past year we have seen some relationships end and have founded new ones, but we are proud of all the creators with whom we've worked, and consider our current stable of sponsored creators to be the strongest we've ever had.
The best part is that we've been able to continue to work with people whom we truly admire. Whether it be for skillful play, media adeptness, or straight up charm and personality, this crew is amazing. If you haven't checked out their work, please do!
Cardsphere Draft and Sealed Simulator
Another part of our marketing strategy is the Cardsphere Draft Simulator.
Total Number of Drafts Completed: 134,619
Total Sealed Pools Opened: 65,795
Number of Draftable Sets: 21
Most shared single draft:
Number of ads displayed: 0
Top 10 Formats by Drafts Completed
ELD-ELD-ELD (23,707)
THB-THB-THB (22,719)
M20-M20-M20 (17,177)
WAR-WAR-WAR (16,149)
MH1-MH1-MH1 (15,163)
RNA-RNA-RNA (13,165)
IKO-IKO-IKO (11,228)
GRN-GRN-GRN (3,656)
UMA-UMA-UMA (3,020)
DOM-DOM-DOM (2,418)
Top 10 Formats by Sealed Pools Completed
THB-THB-THB-THB-THB-THB (22,356)
ELD-ELD-ELD-ELD-ELD-ELD (15,931)
M20-M20-M20-M20-M20-M20 (9,467)
IKO-IKO-IKO-IKO-IKO-IKO (6,625)
MH1-MH1-MH1-MH1-MH1-MH1 (2,082)
WAR-WAR-WAR-WAR-WAR-WAR (1,512)
UMA-UMA-UMA-UMA-UMA-UMA (1,161)
KLD-KLD-KLD-KLD-KLD-KLD (945)
MM2-MM2-MM2-MM2-MM2-MM2 (780)
ISD-ISD-ISD-ISD-ISD-ISD (713)
Community
Number of accounts: 28,720 (+6,959)
Number of business accounts: 310 (+97)
Number of premium accounts set to renew: 195 (+79)
Number of users referred: 1256 (+550)
Number of countries with Cardsphere users: 102 (+9)
Number of messages sent: 397,493 (+145,318)
Top 10 Countries by User Count
United States of America: 22,257 (+5,535)
Canada: 2,168 (+536)
Great Britain: 659 (+137)
Australia: 553 (+101)
Italy: 429 (+44)
Brazil: 305 (+29)
Germany: 218 (+56)
Portugal: 158 (+30)
France: 142 (+31)
The Netherlands: 128 (+31)
Top 20 All-Time Senders (Number of Cards)
The top twenty users account for 18% of all items sent, down from 22% last year.
All Time Top 20 Traders By Count Per Country
Top 20 All-Time Senders (Value of Cards)
The top twenty users account for 15% of all value sent, down from 18.5% last year.
All Time Top 20 Traders By Value Per Country
Top 10 High Volume Trader Pairs
Otherwise known as the "People will say we're in love, Clarice" list. The number shown is how many packages moved between the two traders.
Top 10 Earned Badges
First Volley (Received a card)
Courier's Capsule (Sent a card)
Rise of Eagles (Sent to USA)
Foil (Sent a foil)
Thieving Magpie (Received a foil)
Gold Token (Deposited funds)
Trade Caravan (Moon) (Sent a card worth over $25)
Treasure Cruise (Received 100 cards)
Merchant Scroll (Sent 100 cards)
Into the North (Sent to Canada)
Unearned Badges
Crusading Knight - Sent to Malta
Duskwatch Recruiter - Referred 50 users
Imperial Recruiter - Referred 100 users
King Macar, the Gold-Cursed - Received 5000 foils
Lurking Chupacabra - Sent to Mexico
Sengir Nosferatu - Sent to Romania
Sorcerer's Strongbox - Sent 500 sealed products
Trained Condor - Sent to Chile
Whirling Dervish - Sent to Turkey
Zedruu the Greathearted - Sent 5000 foils
Rank of Country Badges
We introduced the "send to a country" badges to increase our international trading. Anecdotally, I know it works with many users who hunt badges. This is the ranking of the badges from most to least awarded.
Rise of Eagles - (USA)
Into the North - (Canada)
Didgeridoo - (Australia)
Conqueror's Galleon - (Portugal)
The Monarch - (Great Britain)
Irrigated Farmland - (Netherlands
Path of Bravery - (US APO/FPO Military)
Festival - (Brazil)
Saprazzan Cove - (Belgium)
Jacques le Vert - (France)
Ninja of the Deep Hours - (Japan)
Traverse the Ulvenwald - (Germany)
Spirebluff Canal - (Italy)
Hot Springs - (Iceland)
Sheep Token - (New Zealand)
Iceberg - (Norway)
North Star - (Finland)
White Knight - (Poland)
Rishadan Port - (Singapore)
Horned Helm - (Denmark)
Aisling Leprechaun - (Ireland)
Karn, Silver Golem - (Argentina)
Tropical Island - (Taiwan)
Merrow Commerce - (Hong Kong)
Mox Diamond - (South Africa)
Lightning Bolt - (Slovakia)
Snow Hound - (Switzerland)
Misty Rainforest - (Malaysia)
Satyr Hoplite - (Greece)
Coastal Tower - (Croatia)
Battleflight Eagle - (Austria)
Horned Troll - (Sweden)
Elite Inquisitor - (Spain)
Castle - (Czech Republic)
Awaken the Bear - (Russia)
Trained Condor - (Chile)
Crusading Knight - (Malta)
Lurking Chupacabra - (Mexico)
Sengir Nosferatu - (Romania)
Whirling Dervish - (Turkey)
Top 5 All-Time Blog Articles by Unique Views
Number shown is the unique views of the article.
Top 5 Blog Articles by Unique Views in Year Three
Number shown is the unique views of the article.
The Trades
All-Time Dashboard
Average package size: 4.01 items (+0.12)
Largest package: 1154 (no change)
Average value of traded cards: $3.24 (-$0.19)
Number of cards available for trade (excluding multiples per user): 5,065,291 3,807,635 (+1,257,656)
Including those that are non-English: 122,905 (+27,893)
Number of Wants (excluding multiple copies per user): 387,582 (+115,759)
Including those that allow more than one language: 16,918 11295 (+5,623)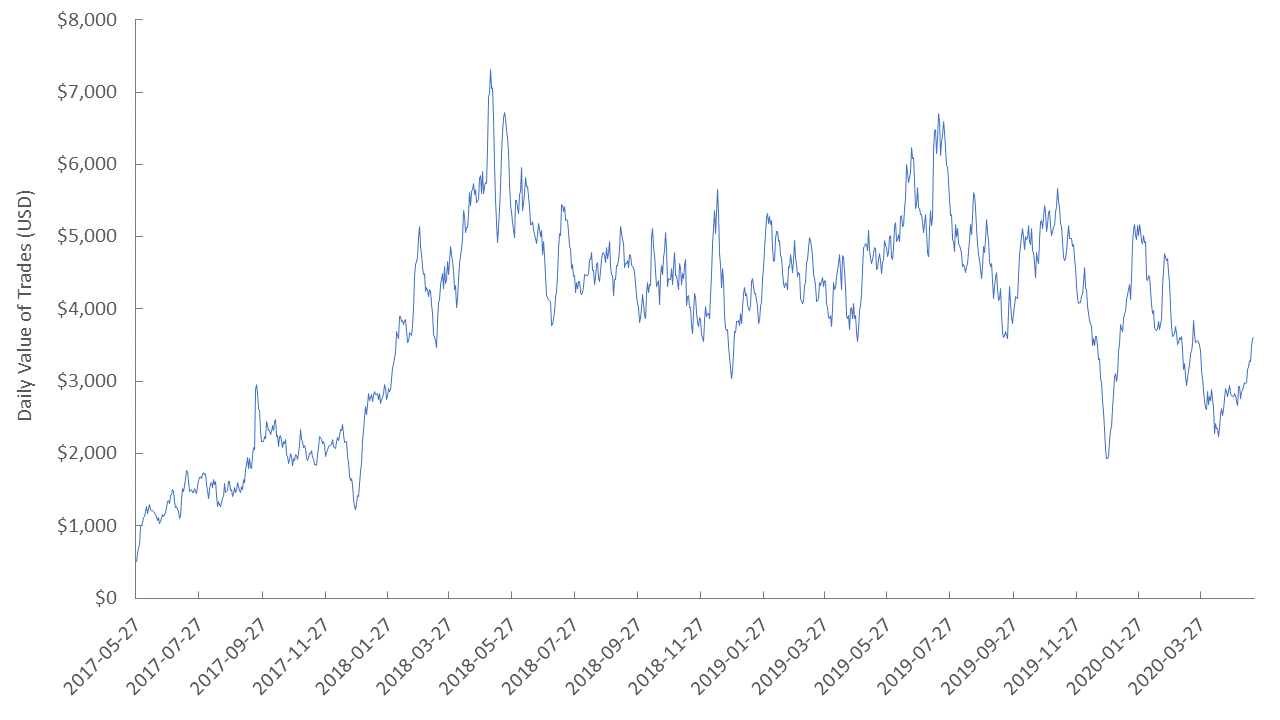 Top 20 Traded Sets
Number is the count of items from the set which have traded.
Top 20 Most Wanted Cards
People still like lands. This list never changes much.
Scalding Tarn
Polluted Delta
Snapcaster Mage
Steam Vents
Flooded Strand
Breeding Pool
Misty Rainforest
Bloodstained Mire
Watery Grave
Sol Ring
Birds of Paradise
Overgrown Tomb
Verdant Catacombs
Wooded Foothills
Lightning Bolt
Blood Crypt
Thoughtseize
Stomping Ground
Sacred Foundry
Hallowed Fountain
Top 20 Most Owned Cards
Evolving Wilds
Negate
Naturalize
Counterspell
Duress
Pacifism
Dark Ritual
Mind Rot
Lightning Bolt
Llanowar Elves
Cancel
Plummet
Disenchant
Giant Growth
Serra Angel
Swords to Plowshares
Brainstorm
Sol Ring
Gravedigger
Act of Treason
Top 20 Most Traded Non-Foils
Snow-Covered Island
Rat Colony
Island (Full Art)
Swamp (Full Art)
Forest (Full Art)
Mountain (Full Art)
Plains (Full Art)
Snow-Covered Swamp
Snow-Covered Mountain
Snow-Covered Forest
Lightning Bolt
Snow-Covered Plains
Sol Ring
Fatal Push
Counterspell
Faithless Looting
Opt
Persistent Petitioners
Field of Ruin
Steam Vents
Top 20 Most Traded Foils
Fatal Push
Island (Full Art)
Forest (Full Art)
Swamp (Full Art)
Mountain
Mountain (Full Art)
Plains (Full Art)
Swamp
Forest
Plains
Nexus of Fate
Island
Opt
Path to Exile
Mutavault
Lightning Bolt
Goblin Token
Spirit Token (Full Art)
Unclaimed Territory
Thopter Token (Full Art)
Data Set Showing Combined Foil/Non-Foil to 50th Place
Top 5 Most Valuable Trades
Ancestral Recall (Unlimited, SP @ 93% index or $2,600.00)
Mox Pearl (Unlimited, SP @ 94% index or $2,357.48)
The Tabernacle at Pendrell Vale (Legends, SP @ 84% index or $1,900.00)
Mox Ruby (Unlimited, SP @ 95% index or $1,800.00)
Mox Jet (Unlimited, SP @ 77% index or $1,700.00)
Delivery Times
We previously published an article about Country to Country delivery times. Here's an update to the data set.
This table shows the 75th, 50th, and 25th percentile delivery time in days, broken down by our top ten country pairs. The all-time count of cards traded is also listed.
Country to Country Delivery Statistics
Cash In and Out
Number of times funds were added: 18,489 (+6,907)
Number of users who added funds at least once: 2,772 (+690)
Number of users who added funds more than once: 1,892 (+532)
% of those who cashed in who did so more than once: 68% (+3%)
Most times a single user added funds: 197 (+45)
Largest cash out request: $5,555.56 (no change)
Total amount cashed out: $1,148,113.93 (+$490,024.21)
Most money ever in escrow (value of cards in transit): 65,075.13 (no change)
Money held by all users (size of economy): $197,376.10 $191,968.82 (+$5,407.28)
In Summary
More of the same in Year Three, it seems. While we have figured out how to make a smaller amount of people very happy, we still haven't figured out how to bust into the mainstream. And that's what what would likely need to happen if we want to see the kind of exponential growth year over year that we saw the first two years of Cardsphere's young life.  If you've read this far you know that Cardsphere improves with the amount of people using the system already.
So, we plan our upcoming development focus in part based on the objective to widen the community. We have some ideas about doing so, but will be engaging in a lot of discussion with the community as always, in the Discord server. We'll also be working with a secondary focus of adding more incentivizing features to Premium membership. You'll see a few long-hanging fruit features pushed out shortly.
Of course, we're still okay with being a small market, as long as we like the way we are doing things, how we are doing it, and who we're doing it with. And we do. The Cardsphere community provides plenty of opportunity for really wonderful, inspiring moments and funnily enough, some really positive human connections. You wouldn't think that a platform designed with the express purpose of eliminating as much communication around trade as possible could bring people together. But it does, and that's some good magic.