Howdy folks! I'm Joe Dyer, and we're here yet again for a monthly dose of Legacy content! Things seem to be settling down pretty well within Legacy, as we look ahead towards the next Legacy Grand Prix event in Atlanta, GA later this month.
Legacy as a format seems to be getting accustomed to the presence of Wrenn and Six and Plague Engineer, but not without some splash damage. W6 and Engineer vastly hate on strategies like Death and Taxes and Elves, however the cyclical nature of things has allowed decks like Moon Stompy and Stoneblade to come back around as well. W6 players generally run greedy four color manabases which Moon Stompy preys on, and in turn is preyed on by the basic heavy Stoneblade.
Now that isn't to say that DnT and Elves are completely dead. DnT pilots often show that a strong combination of deck construction, play skill, and a little bit of luck propels them towards victory even in the face of hate. If anything, DnT is in of itself, a metagame predator and just simply needs to adapt.
This Month however, we're going to be actively talking about some of the decks cashing in on W6's popularity, and the first one is of course... Moon Stompy.
To the Moon!
 
Moon Stompy is of course, a deck that relies on the power of the Chalice of the Void / Ancient Tomb Stompy Manabase, and the power of Blood Moon. This deck goes by a varying number of names, from Dragon Stompy (a throwback to when the deck's primary threat was Rakdos Pit Dragon) to just simply Mono-Red Prison.
The deck plans a Turn 1 Chalice or Blood Moon. From there it exploits locking pponents out of certain plays by casting aggressive threats such as Goblin Rabblemaster or Chandra, Torch of Defiance, while also being able to pillow fort behind an Ensnaring Bridge if needed. In order to do this, the deck plays "Sol" lands (which provide CC when tapped) like Ancient Tomb and City of Traitors in addition to mana sources like Simian Spirit Guide and Chrome Mox to push out its lock pieces and then its threats.
Moon Stompy - Ikeda Takahiro | 14th God of Legacy Hareruya, Japan
4 Ancient Tomb
4 Blood Moon
2 Blood Sun
4 Chalice of the Void
3 Chandra, Awakened Inferno
4 Chandra, Torch of Defiance
4 Chrome Mox
4 City of Traitors
4 Ensnaring Bridge
2 Fiery Confluence
4 Goblin Rabblemaster
6 Mountain
1 Ratchet Bomb
3 Seasoned Pyromancer
4 Simian Spirit Guide
6 Snow-Covered Mountain
1 Trinisphere

1 Chandra, Pyromaster
3 Dead/Gone
1 Endbringer
1 Ratchet Bomb
2 Relic of Progenitus
2 Sorcerous Spyglass
4 Thought-Knot Seer
1 Trinisphere

Some of the newer threats this deck has been playing have been cards such as Seasoned Pyromancer from Modern Horizons and Chandra, Awakened Inferno from Core Set 2020. One of the great things about this deck is that it is exceptionally flexible in what cards it can run as threats, ranging from the Chandras to Karn, the Great Creator and a wishboard of artifacts.
This is a solid option right now as many are trying to cash in on the strength of cards like Wrenn and Six and Delver of Secrets. Chandra, Awakened Inferno especially is pretty powerful versus these decks, due to being uncounterable and three different modes that all answer unique scenarios.
The Edge of the Blade
 
On the flip side, UW SToneblade is able to contend with Moon Stompy and is also not half bad versus W6 piles. Working off the power of Stoneforge Mystic and True-Name Nemesis, UW Stoneblade has received a decent amount of love in recent sets, thanks to the printings of both Narset, Parter of Veils, and Teferi, Time Raveler. Prismatic Vista has also been relatively important to the deck's construction, allowing for its fetch base to be a little more refined.
Stoneblade is one of the format's most basic intensive decks, running around 8 basics or so, thus insulating it pretty well from the Wasteland barrage of W6 decks. Threats such as TNN can be very difficult to beat, increasing the overall value.
UW Stoneblade - Jackson Baum | 4th Place SCG Richmond Legacy Classic
1 Arid Mesa
1 Batterskull
4 Brainstorm
2 Council's Judgment
4 Flooded Strand
1 Force of Negation
4 Force of Will
6 Island
3 Jace, the Mind Sculptor
2 Narset, Parter of Veils
2 Plains
4 Ponder
4 Prismatic Vista
2 Scalding Tarn
3 Snapcaster Mage
2 Spell Pierce
1 Spell Snare
4 Stoneforge Mystic
4 Swords to Plowshares
1 Teferi, Time Raveler
3 True-Name Nemesis
1 Tundra
1 Umezawa's Jitte

2 Back to Basics
1 Blue Elemental Blast
1 Celestial Purge
1 Containment Priest
1 Disenchant
1 Dovin's Veto
1 Flusterstorm
1 Palace Jailer
2 Supreme Verdict
2 Surgical Extraction
1 Teferi, Time Raveler
1 Vendilion Clique

This is a great deck if you're looking to run something pretty fair which also boasts a strong way to win the game that feels just a little unfair (let's face it, TNN booted up with a Batterskull is super scary.) The new planeswalkers add another dimension to the deck, making it hard to interact with it.
The Oncoming Storm
 
Another deck that has been surging back in popularity is the Storm variant Ad Nauseam Tendrils (otherwise known as ANT). ANT is a complicated and difficult deck to pick up, but it is also one of the more rewarding play experiences in the format and provides a lot of technical micro-decisions that are fun to think through.
Even ANT has received some new tech in the past year, thanks to Core Set 2020 bringing the card Veil of Summer, or as many like to refer to it as, the green Pyroblast. Veil is exceptionally strong in various matchups, giving the deck an alternate way of beating Force of Will, Spell Pierce, and of course Flusterstorm.
ANT - Will Pulliam | 9th Place SCG Richmond Legacy Classic
1 Ad Nauseam
1 Bayou
4 Brainstorm
4 Cabal Ritual
1 Dark Petition
4 Dark Ritual
4 Duress
4 Infernal Tutor
4 Lion's Eye Diamond
4 Lotus Petal
4 Misty Rainforest
2 Past in Flames
4 Polluted Delta
4 Ponder
4 Preordain
1 Snow-Covered Island
1 Snow-Covered Swamp
1 Tendrils of Agony
4 Thoughtseize
1 Tropical Island
2 Underground Sea
1 Volcanic Island

2 Abrupt Decay
2 Chain of Vapor
2 Echoing Truth
1 Empty the Warrens
2 Flusterstorm
2 Hurkyl's Recall
1 Massacre
2 Veil of Summer
1 Xantid Swarm

ANT still sees plenty of love and, while it does have a steeper learning curve than most decks, it is not impossible to learn.
Legacy Classic - SCG Richmond
 
While SCG Richmond's main event was Team Constructed and boasted several Delver / 4C Delver decks in the Top 8, the Legacy Classic that weekend painted a very different picture. The winner of this event was none other than Channel Fireball writer and co-host of "Everyday Eternal" Bob Huang on Turbo Depths!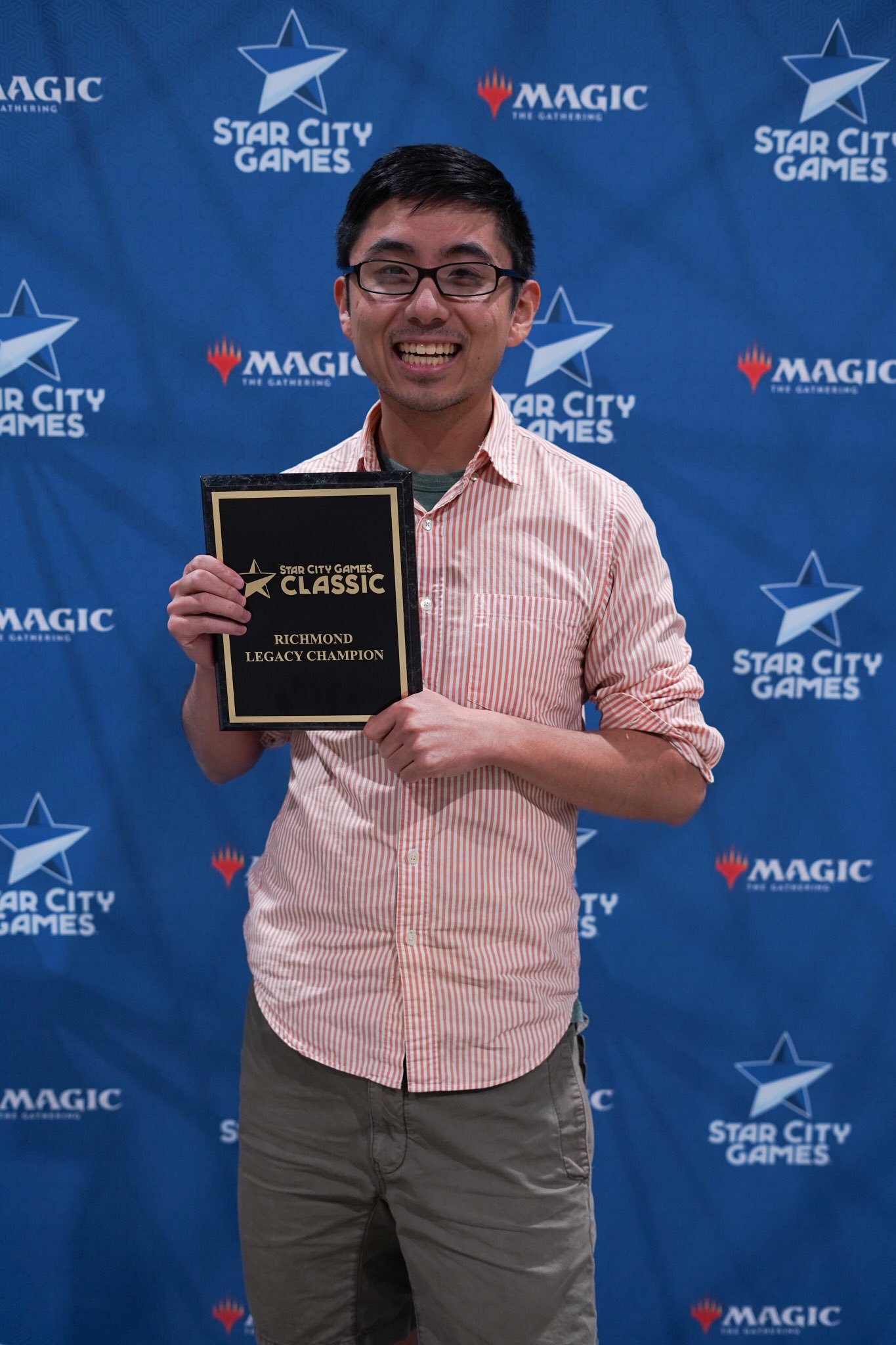 Turbo Depths - Bob Huang | 1st Place SCG Richmond Legacy Classic
4 Abrupt Decay
2 Bayou
1 Bojuka Bog
4 Crop Rotation
2 Dark Confidant
4 Dark Depths
3 Duress
4 Elvish Reclaimer
1 Karakas
4 Mox Diamond
2 Nurturing Peatland
1 Sejiri Steppe
1 Snow-Covered Forest
1 Snow-Covered Swamp
1 Sylvan Library
1 Sylvan Safekeeper
2 Sylvan Scrying
4 Thespian's Stage
4 Thoughtseize
4 Urborg, Tomb of Yawgmoth
4 Vampire Hexmage
4 Verdant Catacombs
2 Wasteland

1 Assassin's Trophy
1 Dryad Arbor
3 Hymn to Tourach
1 Liliana, the Last Hope
2 Pithing Needle
2 Plague Engineer
3 Surgical Extraction
2 Sylvan Safekeeper

Bob's list eschews Hogaak, Arisen Necropolis for a more focused Depths plan using cards like Dark Confidant and maindeck Abrupt Decay. In the sideboard, one of the newer cards to hit Legacy is Plague Engineer out of Modern Horizons. Congrats Bob on a solid finish!
Also in the Top 8 of this event was another new Core Set 2020 showing in the card Mystic Forge. While this card has largely proven how insane it is in Vintage, there aren't many decks in Legacy that can take huge advantage, except for the fact that Bomberman exists.
Bomberman - Kenton Najdzien | 5th Place SCG Richmond Legacy Classic
4 Ancient Tomb
4 Auriok Salvagers
4 Cavern of Souls
4 Chalice of the Void
4 City of Traitors
2 Karakas
4 Karn, the Great Creator
3 Lion's Eye Diamond
4 Lotus Petal
4 Mishra's Bauble
4 Monastery Mentor
3 Mox Opal
3 Mystic Forge
6 Plains
4 Urza's Bauble
3 Walking Ballista

2 Cast Out
3 Containment Priest
1 Disenchant
1 Ensnaring Bridge
1 Lion's Eye Diamond
1 Mycosynth Lattice
1 Nature's Chant
3 Swords to Plowshares
1 Tormod's Crypt
1 Walking Ballista

Between the powerhouse that is Karn, the Great Creator and Mystic Forge, Bomberman is shaping up to be a strong deck in the format, possibly even one of the best. For sure, this is not a deck to be sleeping on or underestimate.
Also coming off its stint in Modern, Hogaak, Arisen Necropolis jumps out of the graveyard in this Top 8, with a deck that is essentially pre-Bridge from Below ban Hogaak in Modern ported to Legacy.
Hogaak - Mikael Conrow | 6th Place SCG Richmond Legacy Classic
4 Altar of Dementia
3 Badlands
4 Bloodghast
4 Bridge from Below
4 Cabal Therapy
4 Carrion Feeder
4 Entomb
4 Faithless Looting
4 Gravecrawler
4 Hogaak, Arisen Necropolis
4 Marsh Flats
4 Polluted Delta
2 Scrubland
4 Stitcher's Supplier
3 Swamp
4 Verdant Catacombs

1 Abrade
1 Cryptbreaker
2 Ethersworn Canonist
1 Goblin Bombardment
2 Rotting Regisaur
1 Shenanigans
3 Thoughtseize
4 Wear/Tear

The Spice Corner
 
Our spice corner this month consist of a few different lists, our first being a pretty sweet "Waterfalls" based deck, utilizing Bloodbraid Elf and Shardless Agent. The payoff? Crashing Footfalls.
Waterfalls - Darkwonyx
2 Abrupt Decay
3 Arcum's Astrolabe
1 Assassin's Trophy
1 Badlands
4 Baleful Strix
1 Bayou
2 Bloodbraid Elf
4 Brainstorm
4 Crashing Footfalls
2 Fatal Push
4 Force of Will
3 Hymn to Tourach
2 Ice-Fang Coatl
2 Misty Rainforest
1 Plague Engineer
4 Polluted Delta
1 Scalding Tarn
4 Shardless Agent
1 Snow-Covered Forest
1 Snow-Covered Island
2 Snow-Covered Swamp
1 Tropical Island
1 Underground Sea
3 Verdant Catacombs
1 Volcanic Island
2 Wasteland
3 Wrenn and Six

1 Ashiok, Dream Render
1 Grafdigger's Cage
2 Liliana's Triumph
2 Nihil Spellbomb
1 Plague Engineer
1 Pyroblast
1 Red Elemental Blast
1 Surgical Extraction
3 Thoughtseize
2 Weather the Storm

From one Wrenn and Six deck to another, we have a deck known as Jund Plug, a variant of Sylvan Plug (which gets its name from a very questionable piece of art from France), a green-based Stompy Chalice deck that plays some pretty big beaters such as Titania, Protector of Argoth.
Jund Plug - FlyingWhales
4 Abrupt Decay
3 Ancient Tomb
1 Badlands
1 Bayou
4 Chalice of the Void
1 Courser of Kruphix
1 Dryad Arbor
1 Elvish Reclaimer
2 Forest
1 Ghost Quarter
4 Green Sun's Zenith
1 Huntmaster of the Fells
1 Karakas
1 Meren of Clan Nel Toth
1 Mountain
4 Mox Diamond
2 Prismatic Vista
1 Ramunap Excavator
1 Reclamation Sage
1 Scavenging Ooze
1 Swamp
2 Sylvan Library
1 Taiga
1 Tireless Tracker
1 Titania, Protector of Argoth
1 Tranquil Thicket
4 Trinisphere
4 Verdant Catacombs
1 Volrath's Stronghold
4 Wasteland
4 Wrenn and Six

1 Centaur Vinecrasher
1 Chandra, Awakened Inferno
3 Choke
1 Collector Ouphe
4 Leyline of the Void
1 Maelstrom Pulse
2 Plague Engineer
2 Toxic Deluge

Our second list really asks the question... is Stiflenaught actually dead or what?
Stiflenaught - Hluca
4 Brainstorm
4 Daze
4 Delver of Secrets
4 Flooded Strand
4 Force of Will
8 Island
4 Narset, Parter of Veils
4 Phyrexian Dreadnought
4 Ponder
4 Preordain
2 Prismatic Vista
2 Renegade Doppelganger
4 Stifle
4 Vision Charm
4 Wasteland

2 Back to Basics
2 Blue Elemental Blast
1 Echoing Truth
2 Flusterstorm
1 Hydroblast
2 Snapcaster Mage
2 Submerge
2 Surgical Extraction
1 Vendilion Clique

Our final list for the month is a sweet UB Ninjas variant, featuring Retrofitter Foundry!
UB Ninjas - blackbird87
4 Baleful Strix
4 Brainstorm
2 Daze
3 Fatal Push
4 Force of Will
2 Gurmag Angler
3 Ingenious Infiltrator
3 Island
2 Misty Rainforest
1 Murderous Cut
4 Ornithopter
4 Polluted Delta
4 Ponder
3 Prismatic Vista
4 Retrofitter Foundry
2 Spell Pierce
2 Swamp
2 Thoughtseize
2 Underground Sea
2 Verdant Catacombs
3 Yuriko, the Tiger's Shadow

2 Back to Basics
1 Blue Elemental Blast
1 Engineered Explosives
1 Flusterstorm
1 Force of Negation
1 Grafdigger's Cage
2 Liliana's Triumph
1 Pithing Needle
2 Plague Engineer
2 Surgical Extraction
1 The Elderspell

This last one is sweet because it features a copy of The Elderspell in it. Obvious reasons.
Looking Ahead and Wrapping Up
 
That's all the time we have for this month folks! Next month's article will be mostly about all the sweet tech we are going to get to see at MagicFest Atlanta, where the main format is LEGACY!
As always, you can reach me on Twitter, Twitch, and even Patreon, and of course I am always able to be reached via Discord as well. If you like what you read here, please consider doing me a solid and helping support my content.
Until next time, may all your Magic be ETERNAL!!