There and Back Again... and Again: a Magic Set Reviewer's Tale
My dear Bagginses and Boffins, Tooks and Brandybucks, Grubbs, Chubbs, Hornblowers, Bolgers, Bracegirdles and Proudfoots. The time you've all been waiting for is upon us. We've finally seen all of the cards in Lord of the Rings: Tales of Middle-earth, and that means it's time for another set review!
Today your intrepid reviewer will be focusing strictly on the legendary creatures from the main set that are worth mentioning. For each one, I'll tell you why I picked it, and whether I expect to see it in the zone or in the 99. Tuck in.
Gandalf the White
We know doubling enter abilities is very popular. We've seen it in the past with Yarok, the Desecrated and Elesh Norn, Mother of Machines. While Gandalf does trigger off of far fewer permanents, he does have a one-up on the previous villains by also doubling "leave the battlefield" triggers. This may not be as powerful as doubling death triggers, a la Teysa Karlov, but it can be a fun addition to blink decks.
Zone or 99: Both
Rosie Cotton of South Lane
Token decks aren't going anywhere anytime soon. People love making their token piles, whether it's treasures, creatures, or copies. Rosie's gonna find a home in decks looking to amass a wealth of tokens, while also strengthening their army.
Zone or 99: 99
Elrond, Lord of Rivendell
Even if your deck is just dropping a creature once a turn, the scry effect is well worth it. Scrying isn't drawing (unless you're playing Eligeth, Crossroads Augur), but you're still filtering through your deck to get to your best cards. So just imagine if you're playing Esix, Fractal Bloom, or some other big token maker, and dropping a bunch of creatures each turn.
Zone or 99: 99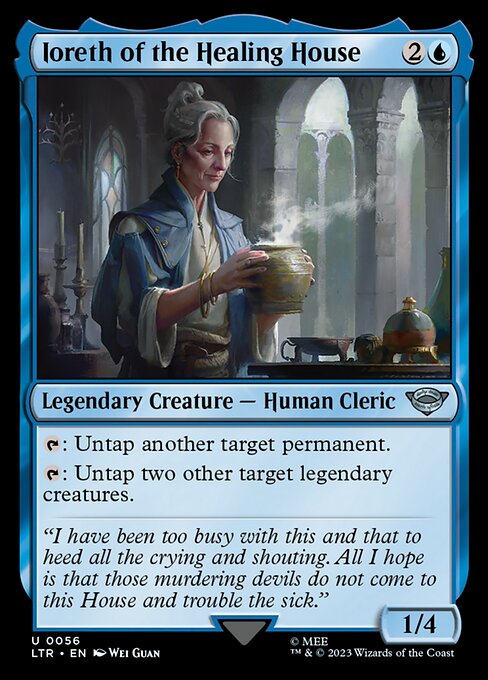 Ioreth of the Healing House
The possibilities here are pretty amazing. She'll go great in legend decks like Jodah, the Unifier, but she's also got a lot of combo potential. Pair her with Myr Turbine and Intruder Alarm for infinite Myr tokens. Or make a copy of her with Sakashima of a Thousand Faces to infinitely untap your legends. There's ridiculous potential here.
Zone or 99: Both
The Watcher in the Water
Okay, this one takes a lot of work to do anything. But you know what? Some people like a challenge (it's me, I'm "some people").
Zone or 99: Zone
Witch-king of Angmar
That is one heck of an attack deterrent. And while it doesn't protect itself quite as completely as Nezahal, Primal Tide, it's nice to know you can save your commander from all non-exile removal.
Zone or 99: Zone
Gimli, Counter of Kills
This guy can really hose aristocrats decks, as well as go-wide decks. I mean, you're gonna be less likely to drop a bunch of creatures on the field if you know a board wipe could kill you, right?
Zone or 99: Both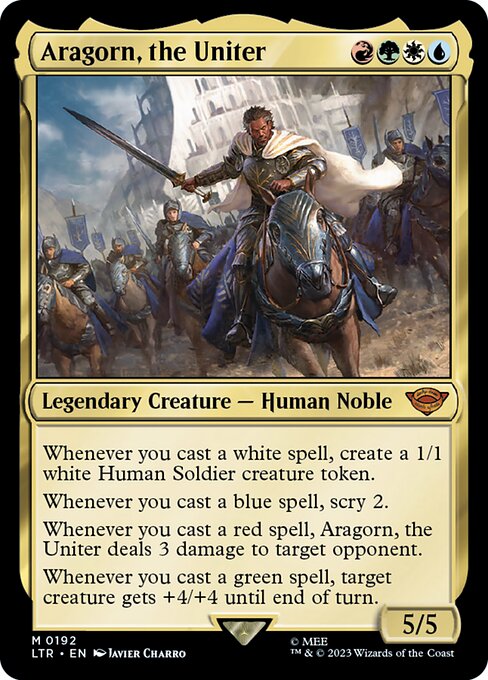 Aragorn, the Uniter
Let's call this my "can't miss" pick of the commanders for this set. This dude is going to have a ridiculous amount of decks made for him. Possibly the most of any legend in the set. Why? Because he's just really freaking good. And people love playing multi-colored spells decks, which we've already seen with popular commanders like Ramos, Dragon Engine and Niv-Mizzet Reborn.
Zone or 99: Zone
Eowyn, Fearless Knight
Why I'm digging this one is that it doesn't say "until end of turn" on the exile effect. That creature is just gone (unless it's a commander). Makes me want to take another shot at that Cadric, Soul Kindler blink deck. Also, don't forget your Teleportation Circle.
Zone or 99: Both
Galadriel of Lothlorien
Card advantage and ramp in one creature? Sounds like Simic to me.
Zone or 99: Both
Gandalf the Grey
While it appears that his abilities run out, keep in mind that all you have to do to reset him is make him leave the battlefield. In fact, he does this himself as one of the options! The biggest reason I'm digging this is the spell copy effect. Having that ability in the command zone is very powerful.
Zone or 99: Zone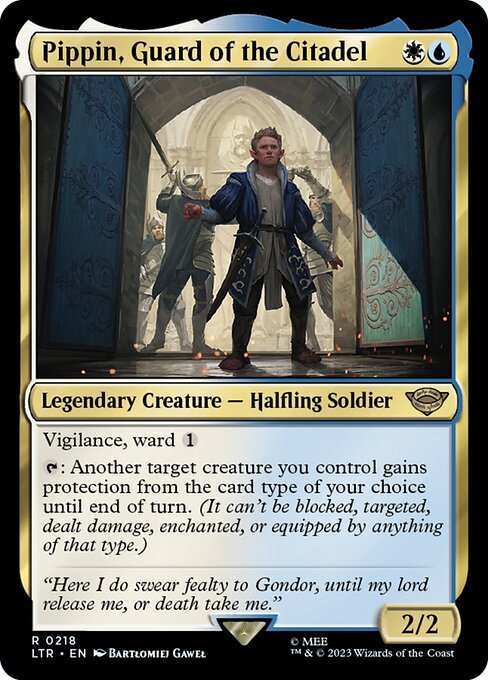 Pippin, Guard of the Citadel
Want to make something unblockable? Give it protection from creatures. Wanna rip all the auras off a voltron commander? Give it protection from enchantments (ditto equipment and artifacts). This little hobbit is far more powerful than he at first appears.
Zone or 99: Both
Saruman of Many Colors
Hey, you know how I love casting other people's stuff? Saruman here puts you through way more hoops than Etali, Primal Storm ever did, but he's got a more inclusive color identity, and a pretty sweet way to protect himself.
Zone or 99: Zone
Sauron, the Dark Lord
Like Saruman above, Sauron makes sure your opponents have to suffer if they want to mess with him.
There's a lot of paths you could take Sauron. Do you want to make your orc massive, or keep sacrificing him so you make a new one when you Amass? Do you want to keep discarding your hand to fill your graveyard for combo potential, with something like Underworld Breach? He does so many things, that it's kind of a world/oyster situation.
Zone or 99: Zone
Sharkey, Tyrant of the Shire
What a cool ability! I don't think it will be relevant in every game. But I just think he's neat.
Zone or 99: 99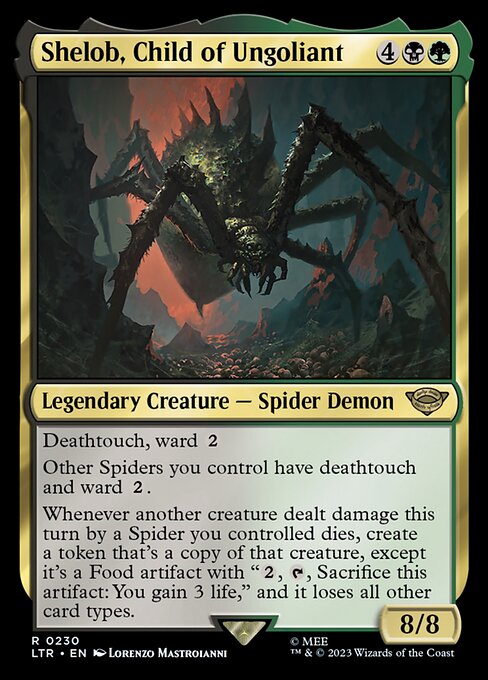 Shelob, Child of Ungoliant
Okay, but here we have a cool ability that can be relevant in every game. Turning your opponents' creatures into food, while retaining all of their abilities, just has so much potential. This is another "can't miss" pick. People are already talking about this Spider and all the fun that can be had when you play with your food.
Zone or 99: Zone
Tom Bombadil
Hey, we've seen this guy before! It's a pretty narrow commander, so it won't be nearly as popular as other five-color decks. But there's enough people out there who love playing Sagas and removing counters from things that I think Tom will find a reasonable amount of popularity.
Zone or 99: Zone
Final Parting
Alright friends, that's it for the legends of Middle-earth. What did you think? Anything from the main set that I missed? Any of these that I'm over-hyping? Hit me up on Twitter to let me know.
Tune in next time for my review of the rest of the set. Until then, take care. And play lots of games!