Hello, traders!
We have a pretty big update for Cardsphere today and something that we have been working on for a while now: dispute self-resolution.
Some of the most troubling feedback we hear from Cardsphere users is that our dispute process is obtuse and tiresome, and many times users just accept misgraded cards rather than go through the hassle of disputing a card for condition reasons, especially when the card is low-value.  Even though Cardsphere admins clear our dispute queue every day, the process can still take sometimes days to complete while we wait for photos to by uploaded, user responses to questions about what condition they believe the card to be, whether they want a price adjustment or refund, and whether both sender and receiver agree to the resolution.
We get it, it's annoying.   That's why, starting today, Cardsphere admins will be switching over select users accounts to be able to use dispute self-resolution, which will allow users to settle condition disputes without admin intervention.
Why only select accounts?
User protection is factored into every decision we make at Cardsphere, anyone who has been around on the platform for a while is hopefully aware of that.  We are constantly making adjustments to the way we operate to better protect the users, which has led to things like suspending card trading when a ban or reprint is announced, or our community voting method for card grading when users cannot reach an agreement on card condition.
Part of the protection that Cardsphere has always offered is dispute mediation by a live, human admin.   So far, an admin has been present during, and has settled each and every one of the over 75,000 disputes that have happened since the Cardsphere beta first opened way back in 2017,  making sure the outcome is as fair as possible for both parties and that everyone walks away satisfied.
Obviously, removing the admin from the dispute process opens the process up to abuse.  In the same way we had to limit the use of our card condition votes on our discord to admins only, we want to make sure that anyone who is allowed to propose a resolution on their own has shown to be fair and honest in disputes in the past.
For the next several months, as disputes come into our queue, during our standard account review process that happens every time a dispute is opened, the admin attending the dispute will make the decision at that time whether or not to enable dispute resolution for the involved parties.

Admins are still watching
Cardsphere users should also note that admins can and will still be monitoring disputes which are in the process of self-resolution and will intervene if necessary.  In our normal admin queue, we now have a tab that allows us to peek into disputes that are going on between users, and even review self-resolved disputes which have already been closed.   If we see that users are being unfair or abusive, an admin will step in to take over the dispute, which could lead to removal of the ability to self-resolve.  
Either user will also be able to click a link in the dispute to summon an admin which will move the dispute into our normal queue where an admin will help settle the issue the next time disputes are processed, which is still once per calendar day.
Self-Resolution is only for condition adjustments for now
In the interest of rolling this feature out as soon as possible we are starting off by only allowing condition disputes that will result in a price adjustment to be settled without admin assistance.  We felt that this is the best place to start since condition disputes make up a majority of all disputes by far, while also causing the most hassle for the users and taking the most time to settle.
If this proves successful, we could feasibly expand it to handle other issues, particularly when the wrong edition or finish of the card is sent, but we'll see how it goes.
Also, you'll notice that I'm mentioning the condition dispute can only be self-resolved if the result would be a condition adjustment.  If the receiver is wishing to return the card, an admin is still needed to help figure out the return postage cost.  This may also change in the future but for now, cards returned to sender because of condition will need admin help.
How does it work?
Now to the good stuff, first, when initiating a dispute, users are going to be met with a new dispute prompt that will ask a series of questions to help determine if the dispute can be self-resolved:
Selecting wrong condition will also prompt the user to select the condition which they believe the card to be, and will then ask if that user prefers to return or keep the card at an adjusted price.  Note that only condition downgrades are supported and you'll only have the option to choose a lesser condition than what was promised:
Finally, at least one image must be attached before the dispute can be opened and you can now select more than one image at a time to be uploaded (hooray!):
From here, you'll move to your messages just as before with the dispute details and images present for both users, along with the resolution suggested by the receiver.   Note that at the top of the message queue there is now an option for both sender and receiver to click a link to summon an admin:
At this point it's important to communicate with your trade partner and let them know why you're disputing the cards.  Sure, there is a brief summary that is auto generated there, but most users are not totally familiar with the dispute process and a little communication can go a long way.
It's also at this point where if there is a disagreement about the proposed resolution, an admin should be summoned by clicking the link above the dispute messages.  The dialogue changes for both users when either user clicks the summon admin link to indicate that an admin is now mediating the dispute:
If both users are in agreement, self-resolving disputes are settled by the users from their sending/receiving pages.  If you're the sender in this instance, after you review the messages and decide the solution proposed by the receiver is fair, you now have an option to settle the dispute on your sending page with a brief description link in red that sends you to your messages where the dispute is taking place:
Clicking resolve will show a summary of the cost adjustment and will allow you to settle the dispute and complete the trade:
Disputing multiple cards
Dispute self-resolution can also be used to dispute multiple cards at once.  However, Cardsphere users should note that you must group your disputes by condition.  This means, if you've got multiple cards that you believe are in more than one condition, you should dispute each condition separately.
Here's an example:
Here, I'm receiving 4 copies of Windbrisk Heights, but when they arrive, I believe 1 to be NM, 2 to be SP, and 1 to be MP.
Using the check marks on the receiving page, I'll select two copies of the card and dispute those as SP:
Note that the dispute button confirms the number of cards that are being disputed:
Returning to my receiving page, I'll again use the check marks to select one to dispute as MP.  Note here that the receiving page confirms that I have two open disputes with a suggested resolution of adjust to SP:
Finally, I can go back to my receiving page and use the last check mark to accept the card that did arrive in the expected NM condition.  Note that you can see the different dispute resolution suggestions so you can verify that everything is disputed correctly.
The sender can then use the same self-resolution actions we saw in the previous walk-through:
Here you can see that although each condition needs to be disputed separately, the sender can accept all condition adjustments at once:
From my the ledger, users can verify that the condition and prices have been adjusted accordingly: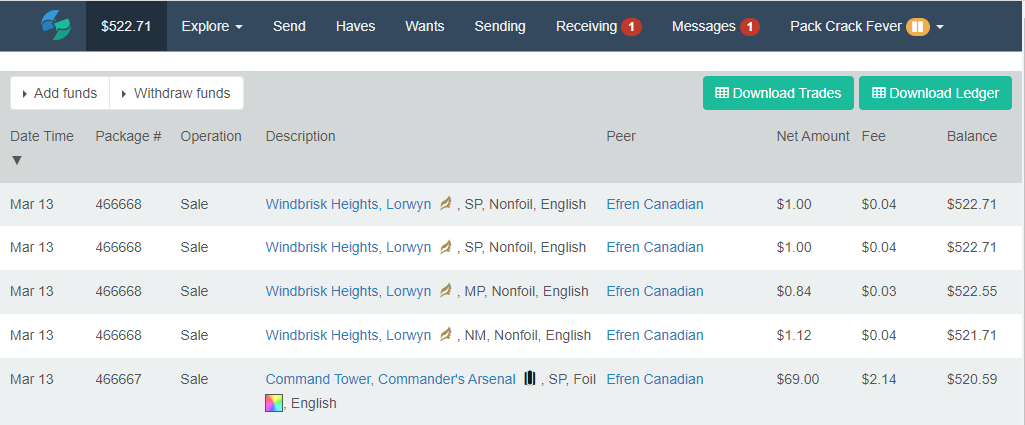 Dispute self-resolution is rolling out now!
Beginning today, we are moving over select users who are in our dispute queue to the new self-resolution system.  Obviously, doing it this way means that only users who have a dispute open can have their account modified.   However, you can always reach out to us with a link to your profile if you'd like us to review your account and enable dispute self-resolution if eligible by emailing us at contact@cardsphere.com or discord.
Thanks everyone and happy trading!